KaliSafe DSD Women's Personal Safety Courses
We run regular Women's Personal Safety and Awareness courses. The courses are normally 6 weeks long and cover all aspects of Personal Protection.
Although we emphasise the absolute importance of Awareness and Avoidance in the role of keeping safe we also address the possibility of physical confrontation.
All attendees receive a 25 page personal safety (KaliSafe DSD) Handbook to accompany the course material.
2020 Six Week course Coming Soon ...........
The Course / Syllabus - covers the following :
Awareness and Avoidance Theory (includes colour codes , the four 'D's etc)
Situational Awareness
Dealing with different scenarios
Threat recognition and Theory
How to remove 'Grey Areas' and act decisively (includes 'The Fence')
Methods of Resistance
The Law in relation to self Defence
Physical confrontation and methods of physical protection including :
Striking
Grip releases
Safe falling and recovery
Accelerated learning by Reflex based response training
Use of Makeshift weapons
...and MUCH MORE
Stuart 'Mitch' Mitchinson is a recently retired Police Officer with MANY years of experience in Personal Protection.
Mitch is also a very experienced Martial Artist and an expert on all aspects of how to keep yourself safe.
Mitch has a passion for empowering women and helping them feel (and be) safe in their day to day lives.
Mitch will also discuss how UK Law relates to your own personal Safety.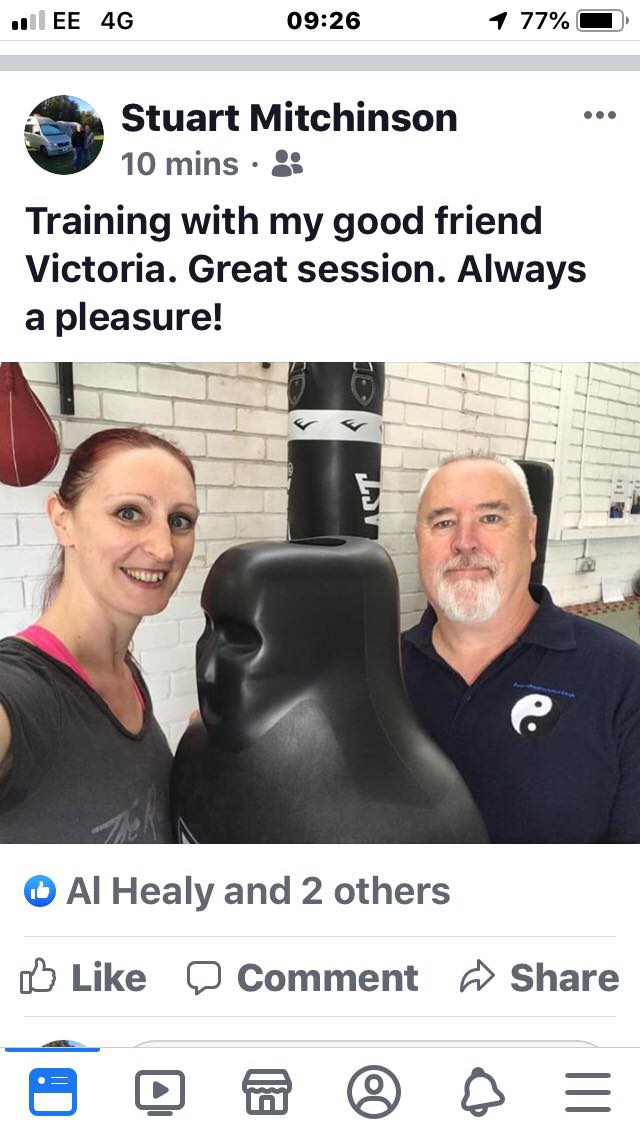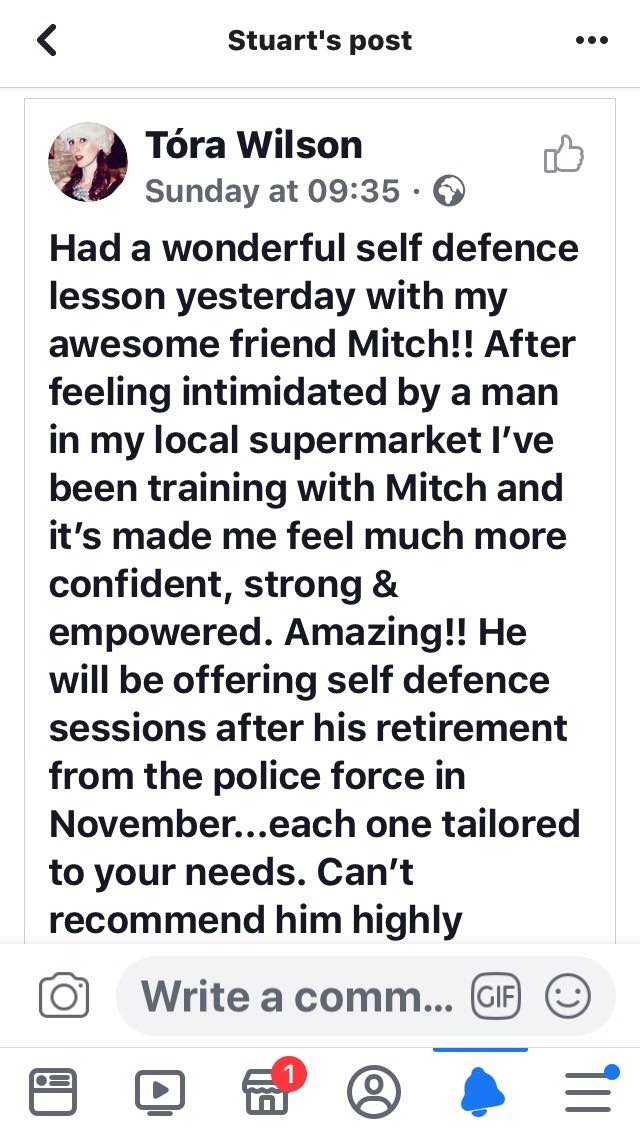 "I have been having self defence lessons with Mitch since an incident in my local supermarket made me feel unsafe.
What is wonderful is how he adapts the lesson according to what you, as the student, needs. He talks everything through and is respectful in both his language and approach.
After the first lesson I already felt so much safer, aware, and am enjoying learning more about self awareness and how to protect myself should a situation arise, or how to prevent it.
I've asked so many questions and he has never once made me feel silly for asking about anything!
I can't recommend him highly enough...he's a lovely man with a wealth of knowledge! "
Marcie Harding
As well as a lifetime learning and teaching Martial Arts, Marcie has taught many self protection and personal safety courses for a wide range of groups and organisations.
Like Mitch, She has always had a passion for empowering women to feel safe in their day to day lives. Marcie Founded Kalisafe DSD (Dynamic Self Defence ) as a tool for women to use in order to stay safe.
More recently (with Mitch's input) she has honed the program to be one of the best around !
"We booked Marcie for a self-defence workshop for our staff. We help and support women fleeing domestic violence in refuges and out in the community. We felt it was important for our staff to learn some basic self-defence techniques as they come into contact with difficult situations and need their wits about them
It became apparent almost immediately that Marcie is a natural teacher of self-defence. She very soon got the staff doing some techniques which will be invaluable for them both personally and professionally. Although the workshop was professionally run by Marcie, both in-terms of the information she provided and also the demonstrations of the physical techniques, all staff including myself had loads of fun.
We all learned a lot and gained a great deal from the experience. The staff fed back that they felt more confident in defending themselves and as a result we have re-booked Marcie to do another workshop with our organisation. We also would like Marcie to do some training for the women in our care who have suffered abuse."
Anne Mason head of HR & Training - Panahghar