"Marcie Harding is not only a fantastic Instructor but she teaches how to teach. She relates to every student on a personal level by explaining techniques in terms of their own style. It takes a high level of skill and knowledge to do this, but it is so important. "
Laura Peil - Dacayana UK & Europe Coach, 4th Dan Jujitsu Sensei and Teacher.
"Exhausted, Inspired, Privileged"
John Devereaux - Dacayana UK & Europe Principle Coach during Master Jun's visit of 2013
"Marcie is a great Instructor and has also been a good friend to me. Dacayana Eskrima is awesome and I am so excited to see what more skills Marcie has to offer us , which I'm sure will be very exciting!"

Russell Perks - Dacayana UK & Europe Coach, 6th Dan TKD Master, and Martial Arts Hall of Fame recipient 2012





"The two day course I was fortunate enough to attend with master Jun Dacayana serves not only to open my eyes to how rich this system is but it also affirmed something that I have always taught my students ..There is always more ot learn regardless of your rank or years training"

Dave Court - Dacayana UK & Europe Coach, 3rd Dan Sensei Kempo Jujitsu and Martial Arts student of 30 years.




"Amazing lesson with Marcie Harding today. The more I learn of this system the more I realise there is so much more to learn. As soon as I think I understand a technique Marcie does something that turns it into something totally different. This is an amazing system which not only stands alone but will compliment any other system you teach"

Julie Williams - Dacayana UK & Europe Senior Coach, 5th Dan Kempo Jujutsu Sensei and Head of The Welsh Kempo Association.





"Master Jun Dacayana: A Phenomenal Teacher with a wealth of knowledge to share. It is an honour to have had the opportunity to learn directly from him."

Missy Ali - Dacayana UK Black Belt and Student at KSOMA




"Great system,Great Instructors, both so humble yet so talented, so glad to be part of the Dacayana UK family"
Mark Penny Dacayana UK Black Belt
"Another superb session with an unbelievably talented and skilled Martial Artist, with again a fantastic turn out. Since Jun arrived at our house I have not only developed a greater respect for him as a man but now think of him as a brother. The Dacayana sysem has proved to me that it is more than a martial art or a martial system or even guiding principles. It is all of these and also a means to bring people together in brother and sisterhood, friendship and sharing of a Martial family " (Abridged version)
Paul King - Dacayana UK & Europe Senior Coach, 6th Dan Kempo Jujutsu Sensei, co-owner and founder of KSOMA Peterborough, and student of the Martial Aets for 30 years.
"Thank you Master Jun Dacayana I have learnt so much yet I know so little of your great system and I look forward to the growth and development of Dacayana UK"
Lee Dootson - Dacayana UK & Europe Senior student.
"Marcie is a great Instructor, very patient and easily likeable but with the ability to back it up to any standard. I would recommend training with her. If you have never trained before you will never find a better Art to learn than this one and you will make truly genuine friends if you are prepared to take the first step through the door"
Doug Wagstaff Sifu - Peaceful Fight Kung Fu.
Thank you all for your Kind Words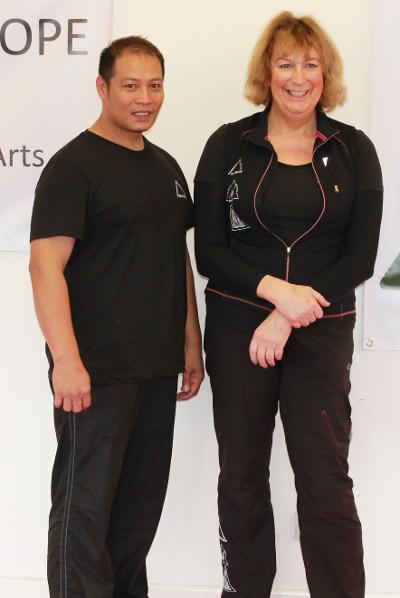 "It was a true privilege to be able to be taught by Master Jun Dacayana, I was fascinated to see how smooth he made all of the moves look, but not suprised, as he is after all, the MASTER... my only regret is not being able to attend every session and seminar he taught, so much to learn form him and so little time. The sessions I did attend will not be forgotten, thanks to Master Jun and everyone involved in makimg this happen especially Marcie Harding"
Robert Wheeler - Dacayana UK & Europe Coach & 4th Dan Jujutsu Sensei
"Training with Master Jun makes you appreciate the simple effectiveness of the style; he both inspired and encourage me personally. Having trained with him in a group environment and one to one I can, hand on heart, say that I was impressed with his patience and humility. He challenged me physically within the seminars and lessons and at the same time motivated my mind to adapt the style to suit my disability. I was enthusiastic about the Dacayana style before I trained with Master Jun, now I can simply say I have a passion for the system"
Joseph Dignam - Student Dacayana eskrima, Malvern Friday night club.
"What can I say? other than it was wonderful to see Master Jun in action ..such a great learning experience and I hope to see more of him in the future. A big thank you to Marcie Harding and Paul King for making this happen"
Robert Stubbs - Dacayana UK & Europe Student, KSOMA.
"I have been training in the Martial Arts for over 20 years and know the real thing when I see it. I have met many so called 'Masters' of Martial arts and very few impress me like Master Jun did. I never thought too much of Eskrima mainly because of too many so called 'guros' being too cocky an full of themselves, that was until I met Marcie and my view changed about the FMA.
Politics should be banned form Martial Arts so we can all focus only on improving our skills and help each other to become better Martial Artists but also better people. Peace to you all"
Messias Pereira - Lifetime student of the Martial Arts, Founder of Gloucester JKD
"I came across Marcie by chance whilst working in Malvern, this chance meeting turned into a great friendship and business relationship. I hadn't studied Marcie's (Dacayana) Style of FMA before and I really enjoyed the style and coaching Marcie delivered. Marcie has a really great attitude and always has the best interest of the student at heart, if you want a first class Martial Arts Coach ..look no further."
Jon Ryley, 6th Dan Karate Jutsu Shihan , 5th Dan Shotokan Karate, BCA Level 3 Coach, Founder; Core Combat & The Karate Jutsu Association.