The Malvern Merlins and the Malvern Kestrels are younger Martial Artists
The Merlins' ages range from 6-11 yrs and the Kestrels' from 11-16 yrs.
The Merlins & Kestrels program is extremely well balanced and promotes:
• Greater levels of fitness and flexibility
• Improved balance
• Enhanced co-ordination and movement
• Increased confidence & Leadership skills
• Respect for themselves & responsibility
• Respect for others & Teamwork
• Having Fun
As a parent or guardian you can be reassured of the following:
Only Appropriate material taught (from a mix of Martial Arts including Eskrima and modern Jujutsu)
Emphasis on games, forms, drills etc
Coaches are all Enhanced CRB checked Child Protection Policy monitored by Dr Victoria Lucas; (Child Pyschologist Sacred Spring School)
All coaches have valid Insurance and Appointed First Aid Qualifications (Through Sacred Spring)



" My son was very sensitive and lacked self-confidence, fearing to have a go at anything new. We thought starting some form of Martial Arts may help to improve his self-confidence, self-esteem and general fitness. Nothing seemed to interest him. However, we were lucky enough to be put into contact with Marcie, who spent a good half an hour talking to me about how Eskrima may suit him.
We came along to her class at the Wyche and he was naturally sceptical. However, Marcie greeted him with her infectious smile and warmth and set the scene beautifully. There was no shouting orders, no expectations just constant encouragement and support. He came out his first session beaming and couldn't wait for Wednesday to come round again!
In just 4 months he has grown in strength of character, respect for others as well himself and is far less afraid to have a go. This culminated in him taking part in an Eskrima demonstration at the Three Counties recently, something he would have dreaded and avoided at all costs. He can still be a little reticent sometimes, but the confidence is growing fast.
And as for Marcie: her praise and encouragement always brings a smile to his face; she has a gift in teaching children the skills involved! He is so proud of himself, rightly so. It is the only thing he has ever taken to and stuck at. Thank goodness for Marcie and Eskrima in Malvern! "
Testimonial written three years ago..the student is now a blue belt....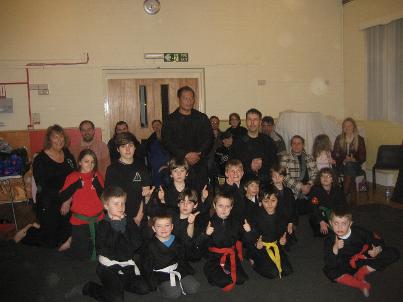 Malvern Merlin's and Parents pictured with Master Jun Dacayana during his 4th UK visit during March and April 2013