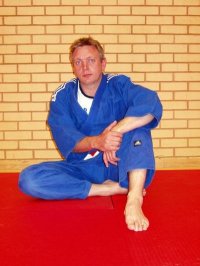 Advisory: John 'Jo' Biggs Shihan (Master 8th Dan)

The Advisory board is a critical part of the School. The Advisory are among the elite of World Martial Arts and have a reputation of being highly skilled in their chosen Art.
The Advisors are people who we seek knowledge and Instruction from to enhance the skill base witihn the School
John 'Jo Biggs is a Teacher of Martial Arts Based in Bedfordshire. Jo has trained and taught continuously for over thirty years. In the 1980s he was uke for some of the most prominent Jujustu Hanshi, competed in full contact Kickboxing championships, and qualified to Instructor level in Eskrima. Jo has also studied and graded in Aikido to a high level.

Over the years Jo's tremendous vision for the Martial arts and for Teaching led him to become one of the founders of the Sacred Spring School of Martial Arts. Jo Also heads up the prestigious Shinpi Izumi Council and his role is one of advisor to all of the Shinpi Izumi Dojos throughout the UK.
Jo's is one of the most highly qualified Martial Artists in the UK being particulalry interested in the healing side of the Martial Arts. He is a qualified Paramedic, a practising Hypnotherapist and an NLP Master Practitioner.

Jo's Martial Arts qualifications include Jujustu Master (8th Dan), Aikido Black Belt (4th Dan) Dacayana Eskrima UK Joint Representative (3rd Degree) as well as Dan grades in Kickboxing and Karate.
Jo continues his studies in the Arts and has recently studied with Kohno Sensei from Japan and Jun Dacayana from the Philippines in his quest to find the best teachers anywhere in the world.

Jo has written regulalry for different Martial Arts Magazines and publishised two books on Martial Arts 'Grace Under Pressure' and 'Ad and Jo's Hypnosis for Martial Arts'


Jo (Furthest right) is the visionary and organisor for the Sacred Spring Fesrtival of Martial Arts at Lynmouth now in its 7th Year !!